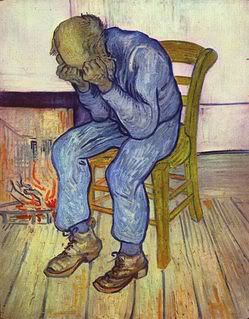 The original sin of
tristita
, sadness, was in time replaced with 'sloth.' Many today struggle to accept that sadness can be sinful. Sadness may be something for which we are culpable, or it may not be. When our sadness is a condition for which we are not responsible, our response to it is more where our responsibility arises.
Our secular culture can make two main errors in its approach to sadness. It can fear exploring below the surface, or it can become endlessly entangled in the feelings. Not for the first time, humanity makes two contradictory mistaken responses to a situation!
Martyn Lloyd-Jones opened his classic book 'Spiritual Depression' with a study on Psalm 42.
Psalm 42:11 Why are you cast down, O my soul, and why are you in turmoil within me? Hope in God; for I shall again praise him, my salvation and my God.
MLJ notes, 'The main art in spiritual living is to know how to handle yourself. You have to take yourself in hand, address yourself, address yourself, preach to yourself, question yourself… You must remind yourself of God, who God is, and what God is and what God has done… Then end on this great note: defy yourself, defy other people, defy the devil and the whole world. Say with the Psalmist 'I shall praise my God.' (Spiritual Depression, p.21)
One of the places in scripture which addresses the issue of sadness in a sustained manner, is the section of teaching Jesus gives his disciples in John 14-17. Two important points may be made which arise from the turning point in salvation history, which is the focus of these chapters – the imminent absence of Jesus from earth.
Jesus draws attention to the disciples' sadness at the fact that he will soon leave them:
John 16:5-7 Now I am going to him who sent me, and none of you asks me, 'Where are you going?' 6 But because I have said these things to you, sorrow has filled your heart.
I take it from Jesus' words here, that sadness must be a part of the normal Christian experience, as we live on a planet from which our Lord is
absent
. Knowing Jesus brings great happiness into one's life, but sadness is not ameliorated in a straightforward manner through this. For the more one loves Jesus, the more one is sad and sorrowful that he is not with us today. If we love Jesus, then in a real sense, sorrow should fill our heart at the realisation that he is in heaven rather than with us.
Jesus goes on to draw his disciples' attention to the
Holy Spirit
:
7 Nevertheless, I tell you the truth: it is to your advantage that I go away, for if I do not go away, the Helper will not come to you. But if I go, I will send him to you.
The disciple of Jesus is not left alone, and ought not try to deal with sadness in his or her own strength. For the Spirit has real supernatural power, which he desires to help us with. It is a pastoral tragedy that so many Christians think that they should face life in their own strength, not realising that as our Lord imparted power to heal the sick, in his earthly ministry, so he imparts power to believe and rejoice, today, through his Spirit. The power at work is no less real.
As we see the inevitability of sadness, due to Jesus' absence, we should rely on the available power of the Spirit. The Spirit's power to uplift is as much the result of Jesus' going away, as is our greatest sadness. Obviously, it is a cause of great concern that the things which most cause sadness to us are often far less deserving of our tears, than our Lord's absence.
Augustine
preached about sadness is Sermon 254.2 He used the Latin word tristitia, and said:
'Sadness is like dung. Dumped in your home it makes your place filthy, dumped in its proper place it makes useful compost. If you are sad the way God wants you to be sad, then you are sad with repentance for your sins. Paul says that the sadness that is according to God produces repentance leading to salvation… We cannot reach the good life except by repentance of the bad life. Will you ever be pleased to find dung in a fresh sheaf of wheat? Yet it is by means of dung that you produce that beautiful wheat. Ugliness is the way to beauty.'
The Christian Church was wrong to remove sadness from the list of seven deadly sins. One can understand the difficulty of explaining in what ways sadness is good, sinful and inevitable. It is not a straightforwardly obvious sin. However it is a condition addressed by scripture and the Church Fathers. Our secular age neither knows how to be sad nor truly happy. Jesus Christ enables us to bring joy out of sadness, and his words on the matter were spoken from the perspective of cross and resurrection shaped experience.
Previous Posts in Seven Deadly Sins series:
1. Envy

2. Anger

3. Avarice